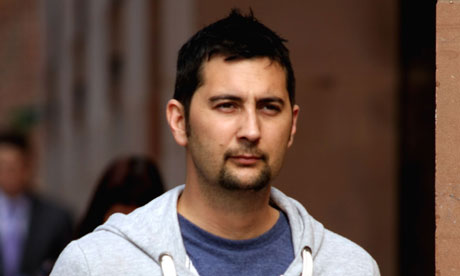 Anton Vickerman arrives at Newcastle Crown Court. Photograph: Tom White/PA
A 38-year-old Briton who made £35,000 a month through a website that linked to pirated copies of films and TV shows has been sentenced to four years in prison at Newcastle crown court.
Anton Vickerman, whose surfthechannel.com website had around 400,000 users a day, was convicted of two counts of conspiracy to defraud in June following an eight-week trial.
He is the first British man to be jailed in the UK for a website that linked to illegal copies of films and TV shows.
It is unclear whether the verdict will have any effect on appeals being made by the family of Richard O'Dwyer, a 22-year-old Sheffield student, whose TVshack.net site was closed down in November 2010 after it linked to places where people could watch US TV and movies online. O'Dwyer faces extradition to the US, where he could face 10 years in jail. Prosecutors in the UK have not charged O'Dwyer, whose site had about 300,000 users per month and collected £147,000 in advertising revenue over three years.
Vickerman, from Gateshead, set up the website in 2007 as an index of online videos – both legal and illegal – hosted elsewhere on the internet. He made money through adverts placed on the site.
He was not charged on copyright offences, but was convicted on two counts of conspiracy to facilitate copyright infringement. He faced a maximum sentence of 10 years.
Vickerman was first arrested in 2008 in connection with surfthechannel.com, which he ran and for which he hired others to source online copies of TV shows and films. His wife, Kelly Vickerman, was also arrested and later cleared of charges of conspiracy to defraud.
Prosecutors said the conviction was a landmark case in the fight againstpiracy websites.
Unlike many copycat sites, surfthechannel.com turned over £1m with a profit of £250,000 in 2008, Newcastle Crown Court heard during the trial. Vickerman valued the site at £400,000 when he offered it for sale in that year.
Entertainment groups immediately heralded the jail term as a warning to those behind websites that could direct people to illicit content online.
"This case conclusively shows that running a website that deliberately sets out to direct users to illegal copies of films and TV shows will result in a criminal conviction and a long jail sentence," said Kieron Sharp, director general of the Federation Against Copyright Theft (FACT).
He said that unlike other search engines such as Google and Microsoft's Bing – which have been criticised for pointing people to pirated material – surfthechannel.com "was created specifically to make money from criminal activity".
Sharp added: "The sentencing indicates the severity of the offences committed and the sophistication of his criminal enterprise and should send a very strong message to those running similar sites that they can be found, arrested and end up in prison."